On the morning of 7 November 2018, despite the disastrous national weather conditions, in Drapia, the worksite of the "Padre Pio of Pietrelcina" Cittadella for paediatric cancer treatment is currently pouring the concrete foundations of the first building: The post-hospitalisation centre for children, Our Lady of the Tears.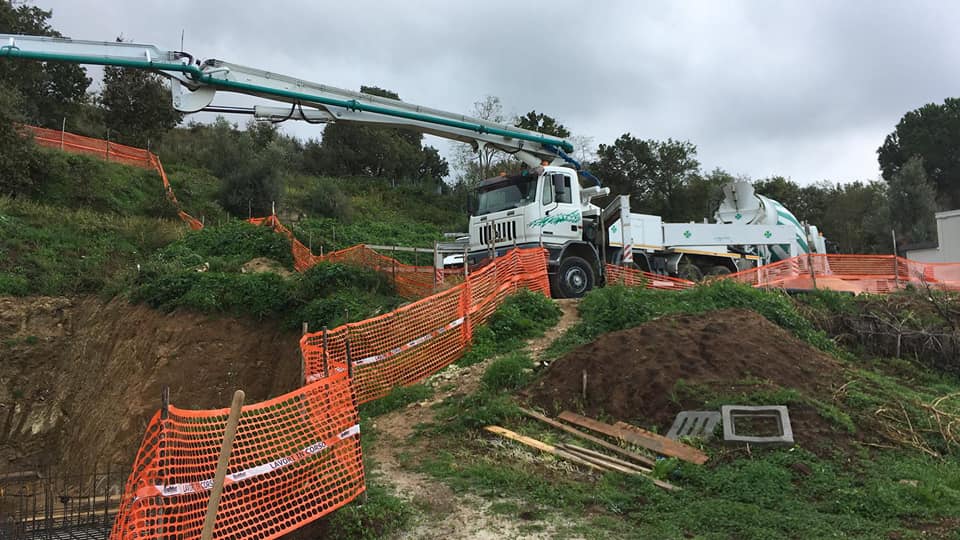 It is a momentous occasion, overlooked by Saint Pio "person". In fact it would be impossible to complete the pouring of concrete in the current weather conditions, in what is a region devastated by torrential rains; yet the building site, with the help of Providence, progresses.
It is raining everywhere, but not there! Over 200 cubic metres of reinforced concrete will cover the Relics of Padre Pio "set" inside the first stone, which thanks to a digital micro-camera, will always be visible, despite being buried in the foundations.
In this crucial work phase there is our patroness Angelina Bracó, together with Antonio Gentile, the technical director of the contracting company Geco Srl, the inspector, Tonino Naso, engineer, and all of the technical and administration staff of the municipality of Drapia.

The project manager and architect Luciano Messina, together with the consultant Agrotechnician – Natural Scientist, Dr. Armando Gariboldoli, oversaw the installation of the reinforced steel, which was completed on Saturday 3 November, thus "authorising" the next phase which entails the pouring of the concrete, today incredibly "set in stone".
From now on, with the help of God, we'll have our building!